---
About OPEX Systems
We offer business and technology strategy, technology research & development, technology scouting and commercialization services to industrial and government customers in the Industrial Internet of Things (IIoT) area.
Industrial end-users, technology developers and manufacturers, government/military agencies and investors needing help to evaluate and acquire innovative, clean energy and industrial automation technologies will find out services extremely valuable.
Field of Expertise
Secure Industrial IoT, Operational Big Data, Industrial and Data Center Operations Management Systems, Renewable and Distributed Energy Systems, Smart Grid, Micro Grid, Hybrid Power, Energy Storage, Connected and Electric Vehicle technologies.
Technologies
Real Time, Secure, Operational IT Systems: System and Enterprise-level, Situational Awareness, Advanced Control, Optimization and Data Analytics Systems.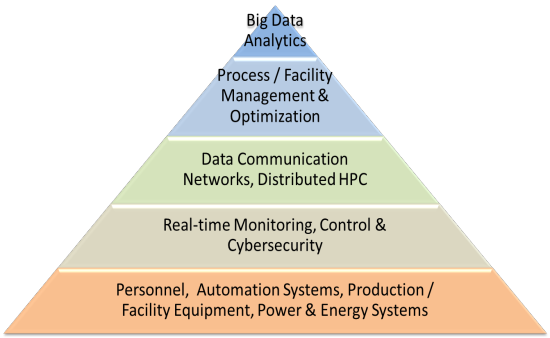 Customers
News Aug 2017: We have successfully completed a prime contract with the Department of Defense (ARMY) to develop a monitoring, metering and control product for improving energy efficiency and resiliency in tactical microgrid environments. This technology will be initially used for intelligent load management.
US Department of Defense; US Trade and Development Agency; leading Federal Systems Integrator; Fortune 500 listed Metals Manufacturer; High-tech startup businesses; International Power Equipment OEM; global Management Consulting firm and a top Investment Bank
Value Proposition
Lower Cost and Improved Speed to acquire cutting-edge, innovative technologies
Technologies that enable holistic system-level efficiency improvement and optimization versus the conventional equipment-level improvements
Ability to collaborate with best-in-class R&D laboratories, more effectively and efficiently
---
Free Reports: Operational Excellence Best Practices
We are pleased to offer the following free educational material available to companies, manufacturers and government organizations, to help improve their operational efficiency and sustainability.
1) Industrial Internet of Things (IIoT) for Automotive Paint Shop Operations"
Abstract: Currently Industrial Internet of Things (IIoT) is a hot topic of discussion among futuristic thinking technology developers, smart industrial companies and academic researchers. During this presentation we will discuss the meaning of IIoT, its potential applications particularly in the context of automotive paint shop operations. We will also discuss the business and operational benefits that manufactures can gain with an IIoT approach in their operations. The presentation will also include a short, interactive discussion on how manufacturers can incorporate IIoT to continuously improve the skills of production operators and empower them to become better craftsmen aligned with the two Japanese manufacturing philosophies: Hitozukuri and Monozukuri.
Download copy of the presentation from Resources page of this website.
2) Sustainability: "Energy, Water & Environmental Sustainability Review - Automotive Manufacturing Best Practices"
Abstract: This report describes the best practices employed by several leading automotive manufacturers to improve energy, water and environmental sustainability. It highlights techniques and standards they have employed to accomplish significant business and societal benefits. This report can help manufacturers and other organizations to implement and improve their own operational sustainability initiatives.
3) Operational Excellence White Paper: "How to Implement a Pilot Kanban System"
Abstract: This white paper provides new Lean Champions a strategy and techniques for implementing a pilot Kanban system quickly. It also provides educational background and case-studies of successful Lean implementations. The concepts and techniques presented in the white paper can be applied in manufacturing and other industries such as utilities, hospital management, credit card processing, government organizations, etc., and business-transaction functions such as customer service, sales and marketing, etc.
---
Contact

---